Feel free to contact us if any questions, follow our newsletter for updates on stock availability and new products.
The nABC idea: transforming sidechain compression into a creative tool
The nABC is capable of "classic" stereo compression, thanks to its transparent VCA-based analog circuit. But what makes it unique is the flexibility to combine analog and digital sidechain triggers, enabling new creative possibilities. Attack and release times can be controlled with millisecond precision, compression depth is adjusted to fractions of dB and all parameters can be MIDI-controlled in real time.
The nABC is capable of classic off-beat ducking/pumping, as commonly used in electronic music, as well as more creative dynamic sidechain patterns, not necessarily in sync with the kick drum. Use it on a bus, on a synth, on a pre-amplified bass, guitar or voice or on any instruments/tracks.
Supported sidechain triggers: USB/MIDI, Gate/CV, Line Audio, External (S/C) Audio, Pedal.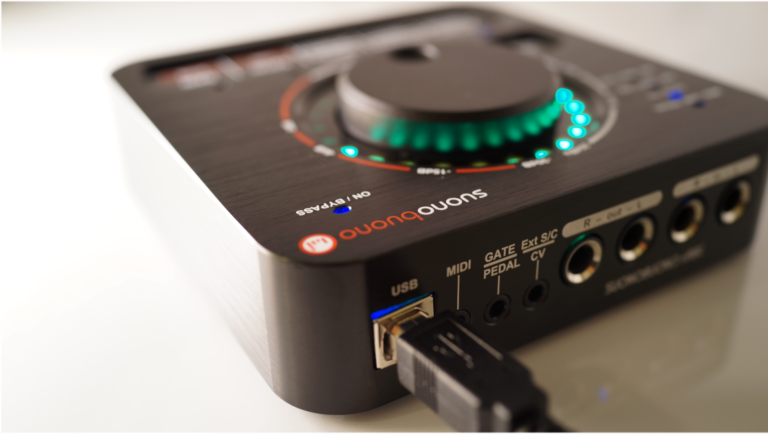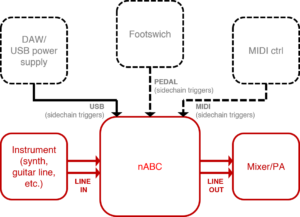 Digital studio
Design sidechain patterns in your DAW and use USB/MIDI for millisecond-level-adjustable attack/release envelope control.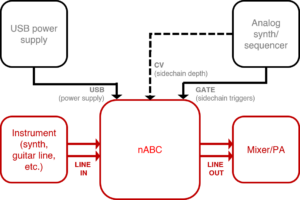 DAW-less/Analog setup
The nABC is easily connected to any sequencer/modular synth with its MIDI, gate and CV sidechain controls. You may connect it to a sequencer for new compression patterns and use the CV to dynamically adjust the sidechain compression depth .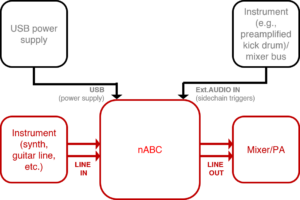 Live
Sidechain compression is relatively uncommon in small live setups, mostly because of the required cable routing and lack of battery-powered portable compressors. The nABC solves these problems and gives new creative opportunities for live musicians.
Pumping analog bassline, sidechain triggered by USB
Arpeggio accent shaping with a sequencer
Creating a trance gate using an analog sequencer and a digital synth.
SOLD OUT! Orders placed now will be shipped by July 2020.

User manual and technical specifications
| | |
| --- | --- |
| Audio Input | 2 x 1/4″, impedance balanced, >100 kOhm |
| Max Audio Input | +19.5dBu |
| Audio Output | 2 x ¼", impedance balanced, 400 Ohm |
| Max Audio Output | +19.5dBu |
| External Sidechain Audio Input: | 1 x 1/8", max 20dBu, 50kOhm, unbalanced |
| External Control Voltage Input: | 1 x 1/8", 0V-10V, unipolar, 50kOhm |
| Gate input: | 1 x 1/8", 0V-5V, unipolar (10V is tolerated) |
| MIDI input | 1 x 1/8" TRS (DIN to TRS cable is included) |
| USB | Type B |
| Frequency Response | 20Hz-20kHz, +0.5, -0.5dB |
| THD+Noise | Typically <0.06%; @1kHz, 0dBu, 1:1 |
| Compressor Threshold Range | -20dBu to +20dBu |
| Compressor Ratio | 1:1 to Infinity:1 |
| Make-up gain | 0dB to +20dB |
| Maximum gain reduction | >30dB |
| Presets | 8, user defined |
| Attack time | Adjustable |
| Release time | Adjustable |
| MIDI control | Sidechain, alla audio parameters, preset selection |
| MIDI out | Signal level threshold, all audio parameters |
| Compression knee | Adjustable, hard or soft |
| Power | 5V via USB, typical 500mA |
| Dimensions | 125mm x 125mm x 40mm |
| Weight | 450gr |