The nABC+ is a unique stereo, analog, digitally controlled sidechain compressor.

Its sound spans from clean and smooth to warm and saturated, thanks to the high-gain analog preamps. The digital control unlocks creative features that are impossible with any other compressor. Compression can be triggered my MIDI, analog gate/CV and audio signals. Use it on a hardware synth, on a guitar, on a bass, on vocals, on an FX return or even on a mixer bus, creativity is the limit!
The nABC+ includes extra features designed with live musicians and small studios in mind. For example, you may mix your sidechain signal and the compressed audio directly inside the nABC+, saving on mixer channels and cabling. If you play with acoustic drums, you may even plug a dynamic drums microphone directly to the sidechain input, without need for external preamplifiers or mixers.
Classic off-beat ducking/pumping is straightforward with the nABC+: plug the instruments you want to compress to the LINE input and trigger compression using the audio kick from a drum machine, a microphone to your acoustic kick drum, a MIDI signal from your DAW or an analog gate from your analog sequencer, whichever suits your setup! Fine tune all the audio parameters of your compression on the panel and store your presets. 
Things get extra interesting when you start to use the nABC+ in creative ways: create trance gates and programmable vibrato by triggering sidechain with a sequencer, apply different compression levels to different beats, create dynamic saturation by combining the in-built analog preamplifiers before and after the compressor stage, sidechain an effects return channel with a long reverb or delay, combine "classic" and sidechain compression within a single nABC+.. possibilities are uncountable!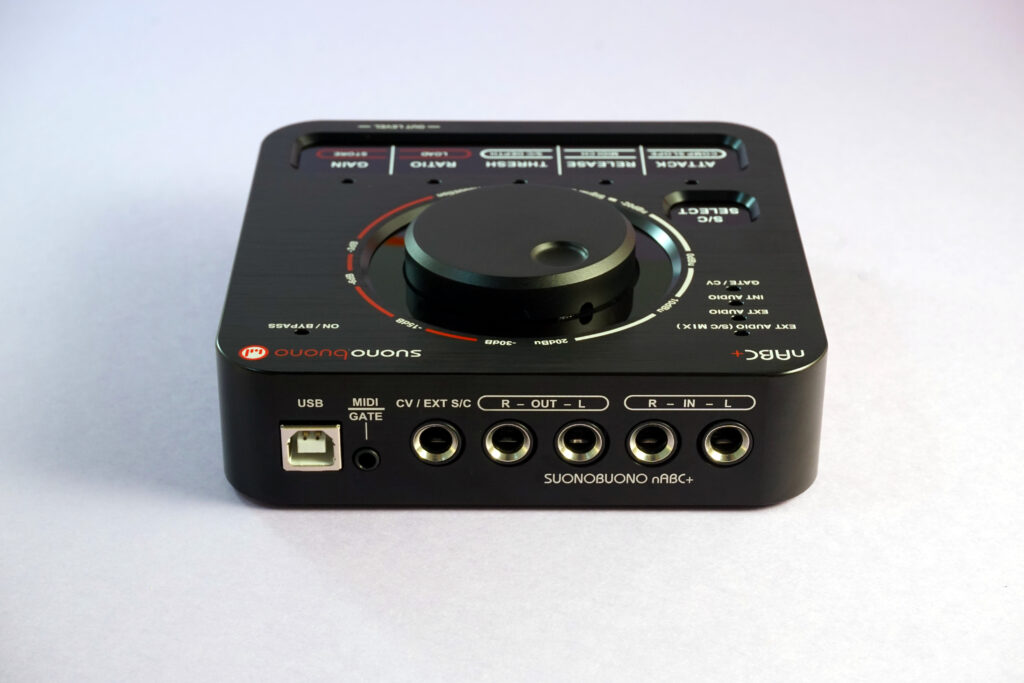 Pumping analog bassline, sidechain triggered by USB
Arpeggio accent shaping with a sequencer
Creating a trance gate using an analog sequencer and a digital synth.
User manual and technical specifications
Audio Input

2 x 1/4″, impedance balanced, 30 kOhm

Max Audio Input

+19.5dBu

Audio Output

2 x ¼", impedance balanced, 400 Ohm

Max Audio Output

+19.5dBu

External Sidechain Audio Input:

1 x 1/8", max 20dBu, 50kOhm, unbalanced

External Control Voltage Input:

1 x 1/8", 0-5V, unipolar

(10V is tolerated)

Gate input:

1 x 1/8", 0-5V, unipolar (10V is tolerated)

MIDI input

1 x 1/8" TRS (DIN to TRS cable is included)

USB

Type B, 2.0

Frequency Response

20Hz-20kHz, +0.5, -0.5dB

LINE THD+N

Typically <0.035% (A), <0.04% (unweighted); @1kHz, 0dBu, no gain reduction nor boost

Compressor Threshold Range

-20dBu to +20dBu

Compressor Ratio

1:1 to -1:1

Preamplifiers gain

Adjustable 0dB to +25dB (LINE input),

Adjustable 0dB to +20dB (LINE output),
Switchable 0/+25dB (Sidechain input)

Maximum gain reduction

>30dB

Presets

8, user defined

Attack time

Adjustable

Release time

Adjustable

MIDI control

Sidechain trigger, all audio parameters, preset selection

MIDI out

All audio parameters

Compression knee

Adjustable, hard or soft

Power

5V via USB, typical 500mA (2A capable supply recommended)

Dimensions

125mm x 125mm x 40mm

Weight

450gr